Waterproof Flooring in Gurnee, IL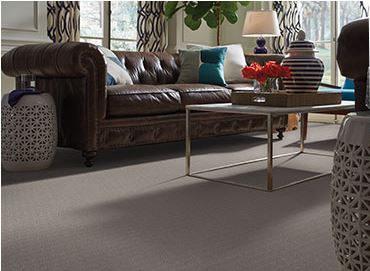 Are you ready to transform your home? Upgrade the look of your home and create a durable setup in any room when you shop with us for waterproof flooring in Gurnee, IL. At our showroom, we feature an expansive selection of strong materials in styles that fit every taste preference. Our collection of waterproof carpet and vinyl flooring offers homeowners beauty and strength for any room. Visit us today to explore our flooring materials and make the right choice for your upcoming installation.
Soft & Strong Waterproof Carpet
Create a comfortable atmosphere throughout every room when you choose to install waterproof carpets in your home. This soft yet durable material is available in a wide range of different colors and styles to fit spaces of all sizes.
How does waterproof flooring work? This material is built in multiple layers, giving it added durability against all types of spills. Whether you find yourself dealing with spilled drinks, pet stains, or other types of accidents on a frequent basis, choosing this flooring material will let you keep your surfaces beautiful without the need for regular cleaning and maintenance. The unique construction of this flooring prevents liquids from soaking through, and all it takes is a quick wipe to remove the spill from the area.
Use the top quality materials available on the market today when you visit us for your purchase. Whether you choose vinyl or carpeting, you will enjoy access to a complete collection of materials. Our showroom features waterproof vinyl flooring and carpeting from leading brands at prices that fit your budget, including Downs H20 and Tigressa H20.
Shopping for Waterproof Vinyl Flooring
With all of the options to choose from, we understand that it can be difficult to make the right decision for your new flooring. For your convenience, we are here to help you throughout the selection process. Our friendly sales team is available to answer any questions you have for your purchase.
Whether you prefer a classic or modern theme to your rooms, you are sure to find something you love when you shop at our showroom. We are happy to work with you to choose the perfect materials for every room in a home. Our team takes the time to understand your wants, needs, and budget requirements so that you make the right decision for your waterproof flooring.

Contact us in Gurnee, Illinois, to explore our selection of waterproof flooring. We carry waterproof carpet and other materials for customers throughout the area.