Combine Style with Substance by Choosing Vinyl Flooring in Gurnee, IL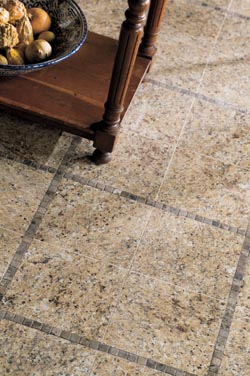 You want your home to look great, there's no doubt about that, but with the dizzying array of flooring choices on the market it's hard to find just the right choice. There are many types and styles of hardwood, bamboo, carpet, slate, and ceramic, just to name a few. Then, once you've decided upon a type, you must choose a style, and that's not easy either, but it will be made simpler with the help of our staff at Iskalis Flooring America.
Once our team members learn about what you are seeking for your home, don't be surprised if they suggest one type of flooring which can meet all your needs. It's not a miracle material; it's vinyl flooring in Gurnee, IL, a proven choice that has been around for quite some time.


A Very Adaptive Flooring Choice
One of the most appealing elements of vinyl is that it comes in tile, not just simple plain tile, but very durable choices in a range of sizes and shapes and styles. Vinyl tile flooring is water-resistant and can be arranged in a broad array of configurations and patterns for a unique floor which is truly your own. These tiles are manufactured in finishes that range from the look of stone or wood to an artistic design to brighten up your room.
When some people think of vinyl flooring, they often consider the large rolls seen in showrooms. It's the traditional choice of vinyl sheet flooring that is resilient and comfortable underfoot. It's also a healthy flooring option as it is installed in one piece or two which means very few seams where dirt and dust can collect, and that's good news for allergy sufferers.
If you like the appearance of wood, but know it's not a good combination for any area where it can be exposed to moisture or humidity as a bathroom, then you should consider vinyl plank flooring. It provides the appearance and texture of wood, with a level of water resistance which allows for installation in those areas. You can have the look of basically any type of wood throughout your home. These planks come in many widths and lengths that allow for truly unique installation concepts.


Outstanding Results from a Team of Professionals
Speaking of vinyl flooring installation, when you call upon the services of our team at Iskalis Flooring America, you are assured of a floor that looks great and is installed to provide service for the long run. There will be no ridges in your vinyl sheet or gaps and lifting pieces in your planks or tiles. In short, your floor will look great.



Contact us for more information about all the types of vinyl we offer. We proudly serve our customers in Gurnee, IL, and surrounding areas.