Beautiful Area Rugs in Gurnee, IL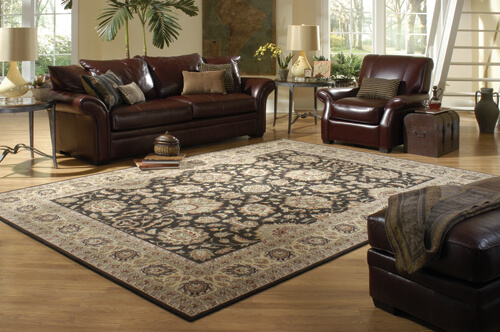 flooring showroom, you will find a vast and diverse selection of rugs and runners. Explore our catalog and find the perfect finishing touch to your interior design.
As your source for area rugs in Gurnee, IL, we are committed to making your shopping experience simple, stress-free--and rewarding. We have teamed up with well-known manufacturers and brands to offer a wide selection of products. With so many different designs, colors, and patterns to choose from, your design options are limited only by your imagination.
The Advantages of New Accent Rugs
The area rug may seem small compared to our flooring options, but they leave a big impression. For example, they may complement the existing flooring in your home. Mix and match to create stunning motifs to enhance the distinct ambiance in any room. We carry a wide selection of rugs, such as:
Area Rugs: Perfect for the living room and common areas, area rugs can serve as a centerpiece. Their larger sizes can provide a soft and inviting contrast to solid surface flooring. You may even use them to create the perfect play area for children.
Accent Rugs: These small- and medium-sized pieces are versatile and may go in any room. Use them like a welcome mat for bedrooms, or as a soft standing surface in the kitchen. These pieces may also add a distinct visual flair when placed before fireplaces.
Runners: Stair and hallway runners are perfect for high-traffic areas, places where decor options are limited. Rugs also act as a buffer between foot traffic and the flooring, which improves the longevity of materials like carpet and hardwood.
Hassle-Free Stair Runner Installation and Area Rug Repair Services
You spent the time and effort to find the perfect runners for your home. Therefore, you deserve picture-perfect results. Our showroom facilitates a professional stair runner installation. We have a team that is thoroughly trained and experienced in rug installation. Our technicians pay attention to the details, ensuring your selection is installed on time and according to your preferences.
Do you own a favorite area rug that is beginning to show its age? Has a family heirloom lost its prominence? Maybe you've picked the rug of your dreams--but it won't fit in your desired room. Revitalize your cherished pieces with our area rug repair services. A trained and knowledgeable repair team is on-site, ready to make your favorite rugs look and feel like new again. With services like re-fringing, modification, and resizing available, our team makes it easier to make your rugs look better and last longer.
Contact us to learn more about our selection of area rugs, accent rugs, and runners. Our showroom serves customers in Gurnee, IL, including Lake County, McHenry County, and Northern Cook County.