Hardwood Flooring in Gurnee, IL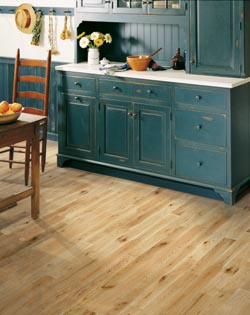 If you're interested in updating your home, a hardwood flooring renovation will increase the market value of your home, as well as your personal satisfaction with your home décor. Hardwood floors are also easy to clean since the smooth surface doesn't collect dirt, debris or dust. This hypoallergenic quality makes it ideal for homes with allergy sufferers or families who have pets. Maintenance is as easy as a quick and simple vacuum or mopping.
There are many options you can consider when choosing you're a hardwood flooring installation. Deciding whether engineered or solid hardwood flooring is best for your lifestyle is an excellent first step, and our knowledgeable staff will be happy to help you weigh the variables and benefits that affect your choice. From a traditional smooth, glossy finish to something more rustic, we are ready to help you bring your vision to life.
Dedication to excellent customer service is our top priority, which means we offer everything you'll need to make your renovation a complete success. Our wide variety of options ranges from traditional to sophisticated and modern. By offering any wood flooring you could want and unparalleled installation services, we have you covered from the beginning of your project to the last plank. We offer the following top-quality brands:
Mohawk
Shaw
Anderson
Downs
Armstrong
Mohawk flooring offers reclaimed engineered wood options for our environmentally conscious customers. Shaw offers their Epic engineered and EPIC Plus options for the customer seeking ultimate durability. Downs has offered their luxury styles to discerning customers since 1865. With these exceptional products to choose from, you're sure to find the flooring of your dreams.
Benefits of Certified Hardwood Flooring Installation
Proper hardwood flooring installation is as important as the quality of the floors you purchase. That's why it's important to leave it to the most experienced professionals. Getting the most experienced technicians to handle your installation is crucial to extending the life and quality of your new floor. When installed properly, your floor will be easier to maintain and require less upkeep.
Our licensed installers are dedicated to creating a work of art that will be a point of pride in your home for many years to come. We want our customers to be as confident in our work as we are, so we also offer a Lifetime Installation Guarantee on all the floors we install. If you ever have any problems related to the installation, we'll fix it at no charge to you.
Enjoy the Timeless Beauty of Solid Hardwood Flooring
There are many advantages to having beautiful solid hardwood flooring in your home. According to many designers and homeowners, the enduring beauty of wood floors simply cannot be surpassed by any other type of flooring. It's also a great investment for homeowners who plan to stay in a home for many years, since they can be sanded and refinished. When wear eventually begins to show, it's a relatively simple matter to have solid wood floors refinished – and then you have a whole new floor once again.


Contact us today to learn more about why one of our gorgeous hardwood floors is right for your home. We proudly serve customers in Gurnee, Illinois, and the surrounding Lake County, McHenry County, and Northern Cook County areas.